Recipe Image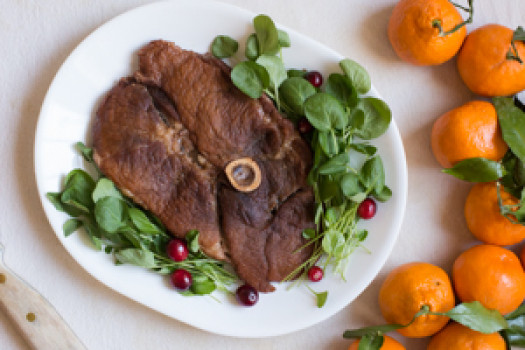 Cranberry juice, raisins, allspice, and brown sugar give this dish a sweet and tangy sauce. Serve with your favorite veggies for an easy dinner.
Ingredients
1 cup brown sugar, firmly packed
1/2 tablespoon cornstarch
1/2 teaspoon allspice
2 cups cranberry juice
2 tablespoons lemon juice
1/4 cup raisins, seedless
2 ham slices, 1-inch thick
Directions
Wash hands with soap and water.
Set dial of temperature controlled burner at 225 °F. Combine brown sugar, cornstarch, and allspice in a saucepan.
Gradually add the next three ingredients and stir. Cook until sauce thickens and boils.
Place one slice of ham in greased baking dish. Pour one half of the sauce over the ham slice. Top with second slice. Add remaining sauce.
Bake, covered in 350 °F oven for 45 minutes.
Source:
University of the Virgin Islands Cooperative Extension Service
4-H/Family & Consumer Sciences Program