Easy and Healthy Black Bean Soup
Recipe Image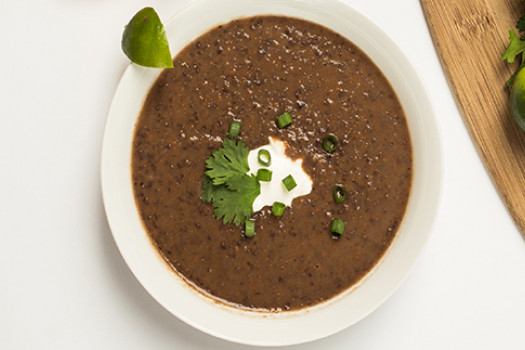 This soup is full of flavor and is so easy to prepare. Using canned beans and salsa, along with cumin and cilantro, this soup is a great way to throw dinner together in minutes.
Ingredients
2 cans black beans, low-sodium

(15.5 ounces, drained and rinsed)

2 cups chicken broth, low-sodium

(can use low-sodium vegetable broth instead)

1/2 recipe fresh salsa

(1 cup)

1 teaspoon cumin

(ground)

4 tablespoons sour cream, low-fat

(can use fat-free)

2 tablespoons fresh cilantro, chopped
Directions
Wash hands with soap and water.

Lightly purée one can of black beans with broth, salsa, and cumin in a blender.

In a medium saucepan, combine puréed bean mixture with remaining beans and heat through.

To serve, ladle soup into 4 bowls.

Top each bowl with one tablespoon of sour cream and garnish with the cilantro.
Source:
Bronson Wellness Center
Bronson Healthcare - Michigan