Recipe Image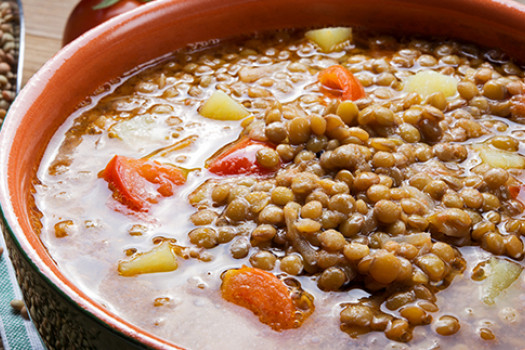 This wholesome lentil soup is simple yet satisfying. Using vegetable broth makes it a delicious vegetarian option.
Ingredients
2 tablespoons olive oil or cooking oil
1 large red, yellow, or white onion

(chopped)

3 carrots

(finely diced)

3 garlic cloves

(minced)

2 cups lentils

(1 pound, rinsed)

1 can diced tomatoes

(14 1/2 ounce can)

8 cups low-sodium vegetable or chicken broth

(2 quarts)

1 bay leaf
1/4 teaspoon red pepper flakes
1 teaspoon salt
1 teaspoon black pepper
Directions
Wash hands with soap and water.
Sauté onions, carrots, red pepper flakes, and garlic in oil until soft.
Add tomatoes, bay leaf, salt, and pepper and stir well.
Add rinsed lentils and broth and simmer until lentils are soft, about 30 minutes. Keep checking lentils until they are done.
Season with additional salt and pepper, if desired.
Source:
Bronson Wellness Center
Bronson Healthcare - Michigan