Recipe Image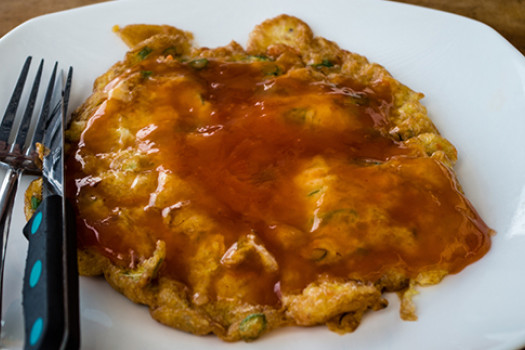 Make these egg patties with chicken or beef and top them off with a homemade sauce for an easy Chinese dinner. Serve with brown rice and a salad for a complete and delicious meal.
Ingredients
2 eggs
1 cup bean sprouts, fresh
1/2 cup chicken, cooked and diced (or beef)
1/3 tablespoon dried minced onion
1 cup mushrooms, stems and pieces (drained)
2 teaspoons oil
Sauce Ingredients:
1/2 cup water
2 teaspoons soy sauce, low-sodium
2 teaspoons cornstarch
Directions
1. Beat eggs with electric mixer (or by hand) until very thick and light, about 5 minutes.
2. Fold in bean sprouts, chicken or beef, mushrooms, and onion.
3. Heat oil in frying pan over moderate heat.
4. Pour egg mixture by half cupfuls into the pan. Brown on one side; turn and brown the other side. Keep warm while preparing the sauce.
5. Mix sauce ingredients in small saucepan until smooth.
6. Cook over low heat, stirring constantly, until thickened.
7. Serve sauce over patties.
 
Notes
Use only clean eggs with no cracks in shells.
Source:
Thrifty Recipes: Main Dishes
University of Maine Cooperative Extension