Fresh Fruit with Cinnamon Yogurt Dip
Recipe Image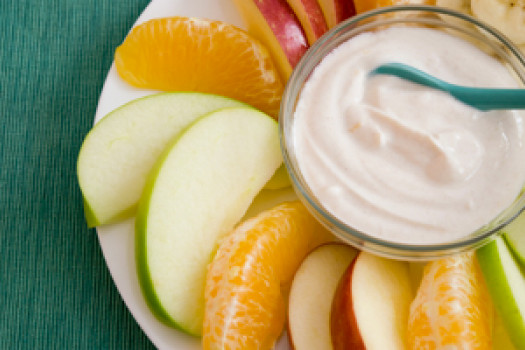 Vanilla yogurt with cinnamon makes a delicious dip for your favorite fruits. Use low-fat yogurt for an even healthier option.
Ingredients
1 apple
1 banana
1 orange
1/4 cup orange juice
1 cup vanilla yogurt, low-fat
1/2 teaspoon cinnamon
Directions
Wash hands with soap and water.
Core and slice the apple.
Slice banana into thin circles.
Peel the orange and break it into sections.
Pour the orange juice into a small bowl.
Dip the fruit pieces into the orange juice to prevent browning.
Arrange on a plate.
Mix the yogurt and cinnamon in a small bowl.
Put the bowl of yogurt and cinnamon next to the fruit. Use it as a dip for the fruit.
Source:
Pennsylvania Nutrition Education Network