Recipe Image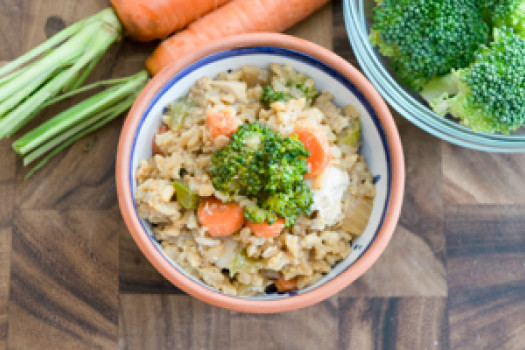 Low-sodium soy sauce and garlic powder create a delicious flavor for this brown rice, vegetable, and chicken dish.
Ingredients
2 tablespoons vegetable oil
3 cups cooked brown rice
1 carrot

(cut into 1/4-inch slices)

1/2 bell pepper

(chopped)

1/2 cup chopped onion
1/2 cup chopped broccoli
2 tablespoons soy sauce, low-sodium
1/2 teaspoon black pepper
1 teaspoon garlic powder
2 medium eggs, beaten
3/4 cup cooked bite-size pieces of chicken
Directions
1. Heat oil in a large skillet over medium heat.
2. Add rice and stir for 5 minutes.
3. Stir in carrot, bell pepper, onion, broccoli, soy sauce, black pepper, and garlic powder. Cook until vegetables are tender.
4. Remove mixture from pan.
5. Pour eggs into pan and scramble.
6. Put vegetable mix and rice back in the pan and mix with scrambled eggs.
7. Add chicken and cook until hot.
8. Refrigerate leftovers.
Source:
Colorado State University and University of California at Davis. Eating Smart Being Active Recipes.