Recipe Image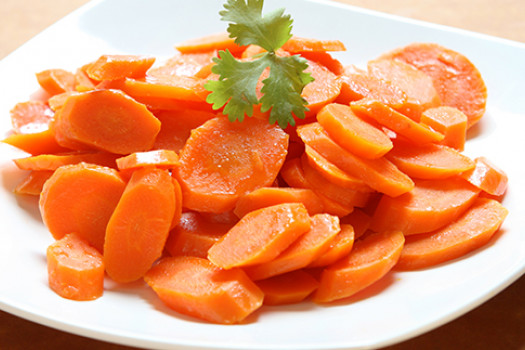 Take care not to burn the carrots at the end of this recipe. They should be browned (but not blackened) for a tasty side dish.
Ingredients
2 tablespoons margarine or butter
1 1/2 pounds carrots
1 cup water
1/4 teaspoon black pepper
2 teaspoons sugar
Directions
Wash hands with soap and water.
Peel the carrots. Cut in half lengthwise, then cut into 1 inch pieces.
Melt the margarine in a heavy saucepan on low heat.
Add the carrots. Stir to coat them with the margarine.
Add the water, salt, and pepper.
Cover and simmer for about 15 minutes until tender.
Drain the water.
Add the sugar.
Cover the pan.
Shake the pan back and forth on the burner for 1 minute.
Cook for 1 more minute, until the carrots are glazed but not brown.
Source:
Pennsylvania Nutrition Education Network