Green Bean and Mushroom Medley
Recipe Image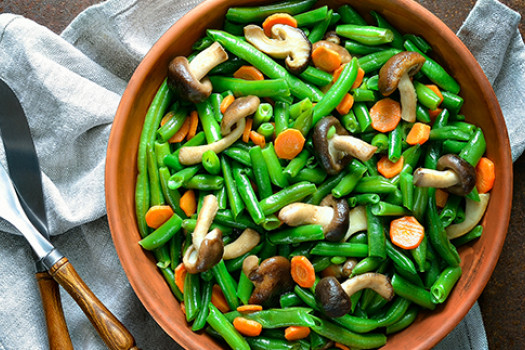 Lemon pepper seasoning and garlic salt give a flavor punch to this mushroom, carrot, and green bean side dish.
Ingredients
3 cups green beans

(fresh, cut into 1-inch lengths)

2 carrot

(cut into thick strips)

3 tablespoons olive oil
1 onion

(large, sliced)

1 pound mushroom

(fresh, sliced)

1 teaspoon lemon pepper seasoning
1/2 tablespoon garlic salt
1/4 cup almonds

(toasted, slivered)
Directions
1. Place green beans and carrots in 1 inch of boiling water. Cover, and cook until tender but still firm. Drain.
2. Add oil to heated skillet. Sauté onions and mushrooms until almost tender. Reduce heat, cover, and simmer 3 minutes. Stir in green beans, carrots, Lemon pepper, and garlic salt. Cover, and cook for 5 minutes over medium heat.
Source:
North Carolina Cooperative Extension
Wayne County