Recipe Image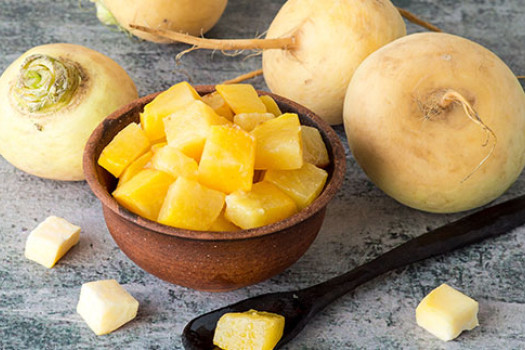 Preparation Time:
10 minutes
Cook turnips and honey on the stove to create an easy and healthy side dish for dinner.
Ingredients
3 turnips, medium, about 1 1/2 pounds

(sliced or cubed)

2 tablespoons honey
2 tablespoons canola oil
1/4 cup water
1/4 salt

(1/4 teaspoon, to taste)

1/4 pepper

(1/4 teaspoon, to taste)
Directions
Wash hands with soap and water.
Peel turnips.
Dice or slice turnips, 1/2 inch pieces.
In a medium saucepan, combine honey, canola oil and water and bring to a boil.
Add turnips, salt and black pepper, cover and bring to a boil.
Reduce to simmer and cook for about 10 minutes.
Uncover and continue to cook until turnips are golden and glazed, about 10 minutes.
 
Source:
Penn State Extension Nutrition Links