Recipe Image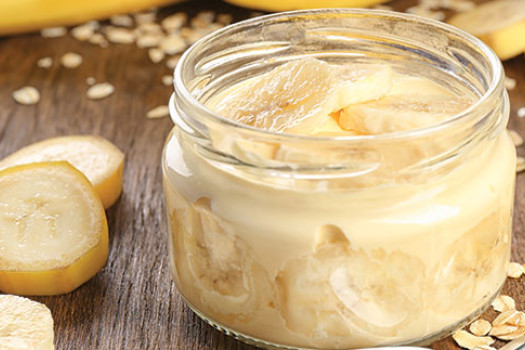 Dress up instant pudding mix with this "famous" dessert that combines low fat dairy and fruit for a tasty, nourishing treat.
Ingredients
1 box instant pudding mix (3.4 ounce), banana or vanilla
2 cups milk, non-fat or low-fat
1 yogurt, fat-free, 8 ounces

(or non-dairy whipped topping)

2 bananas

(sliced, or other sliced fruit)
Directions
Wash hands with soap and water.
In a medium bowl, combine milk and pudding. Beat with wooden spoon, wire whisk, or electric mixer on lowest speed for 2 minutes
Gently mix yogurt (or whipped topping) with pudding mixture. Refrigerate for 30 minutes.
Layer fruit slices in the bottom of 8 dessert cups.
Pour the pudding mixture over sliced fruit. Top with more fruit.
Refrigerate until ready to serve, at least 5 minutes. The taste is better if it's refrigerated longer.
Notes
1% milk used for nutrition analysis.
Learn more about:
Source:
Choices: Steps Toward Health
University of Massachusetts
Extension Nutrition Education Program