Mashed Parsnips and Potatoes
Recipe Image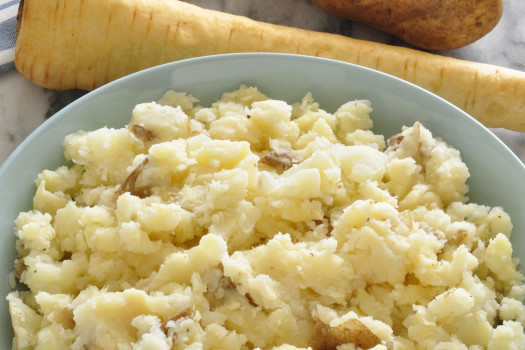 Preparation Time:
15 minutes
A twist on a classic comfort food, this combination of parsnips and potatoes is sure to hit the spot. This dish can be made with substitutions: like using yogurt instead of milk. Enjoy it your way!
Ingredients
2 cups parsnips

(medium size)

3 medium potatoes (1 pound)
1/2 cup low-fat milk
1/2 teaspoon salt
1/4 teaspoon black pepper
1/2 teaspoon garlic powder
1 tablespoon butter
Directions
Wash hands with soap and water.
Scrub parsnips and potatoes under running water and peel.
Cut into similar size pieces. 
In a medium saucepan, cover the vegetables pieces with cold water. Bring the water to a boil and simmer until vegetables are soft, 15 to 20 minutes.
Drain the vegetables and mash. Stir in milk, salt, pepper, garlic powder and margarine. Serve hot.
Refrigerate leftovers within 2 hours.
Notes
Source:
Food Hero
Oregon State University Cooperative Extension Service