Oven-Baked Potato Pancakes
Recipe Image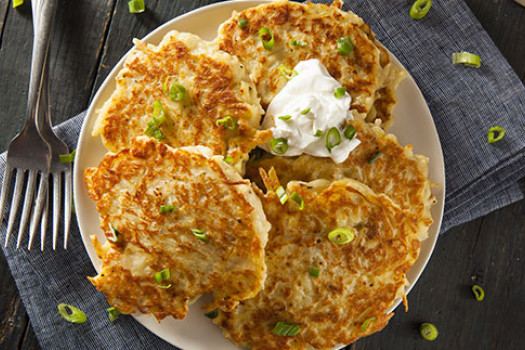 These potato pancakes are easily baked in the oven and offer a healthier version of a traditional Hanukkah recipe.
Ingredients
2 tablespoons olive oil
3 tablespoons whole wheat flour

(or all-purpose flour)

1 teaspoon baking powder
3/4 teaspoon salt
2 russet potatoes, large

(or 1 pound Yukon Gold potatoes)

1 onion, small peeled
1 egg, large
applesauce and yogurt (plain low-fat or Greek)
Directions
Turn the oven on to bake and set it to 425

°F. Lightly oil the baking sheet (or sheets) by spreading the oil around with your clean hand or a paper towel.

Put the flour, baking powder, and salt, in a small bowl and mix well.

Use the large holes on your grater to grate the potato, then grate the onion too.

Put the potato and onion mixture in the colander inside the sink. Using a paper towel, press the potato mixture down to squeeze out and blot up some of the extra moisture. Stir it and blot again.

Put the potato mixture in the large bowl, add the egg, and stir well. Add the flour mixture and stir it very well.

Use a spoon or your fingers to pluck a clump of the potato mixture from the bowl and spread it into a round, flat nest on the oiled baking sheet: it should make a circle that's about 3 inches wide and 1/4 inch thick. Repeat to fill the sheet. (You don't need to leave space between them.)
Back until the bottoms are deeply golden, 15 to 20 minutes, then turn the pancakes over and back for 10 more minutes. Serve the latkes with applesauce and yogurt (optional).
Notes
These Hanukkah favorites are traditionally fried in oil to celebrate the oil of the eight nights of lights (like a menorah, which is a special Hanukkah candle holder, does). Our potato pancakes are actually oven-baked, which makes them easier, crunchier, and healthier.
Learn more about: 
Source:
ChopChopKids, Chop Chop Magazine.
Chop Chop Maryland.