Recipe Image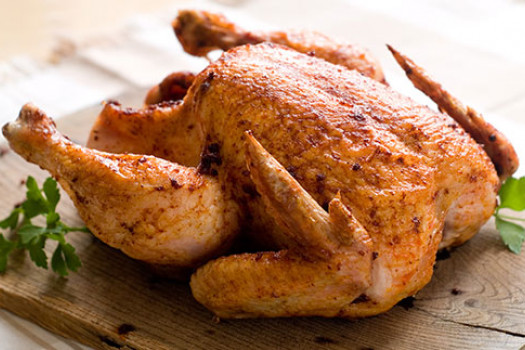 A simple, roasted chicken is perfect for dinner any time of the year.
Ingredients
1 chicken, broiler/fryer

(thawed, if frozen)

2 tablespoons Italian dressing, low-fat

(or olive oil)

1 teaspoon garlic salt
1 lemon, quartered

(or orange)
Directions
1. If chicken is frozen, thaw in the refrigerator 24 hours before cooking.
2. Place chicken on a pan or plate while thawing in the refrigerator.
3. Preheat oven to 375°F.
4. Remove necks and giblets from chicken cavity, if present before cooking. Reserve for another use.
5. Place chicken, breast side up, in a roasting pan.
6. Brush chicken skin with Italian dressing and sprinkle with garlic salt.
7. Stuff lemon or orange into chicken cavity.
8. Roast 1 1/4 - 1 1/2 hours or until meat thermometer inserted into chicken thigh registers 165°F.
9. Let chicken set for 15 minutes after removing from the oven before carving.
Source:
University of Illinois Extension. Illinois Nutrition Education Program.