Recipe Image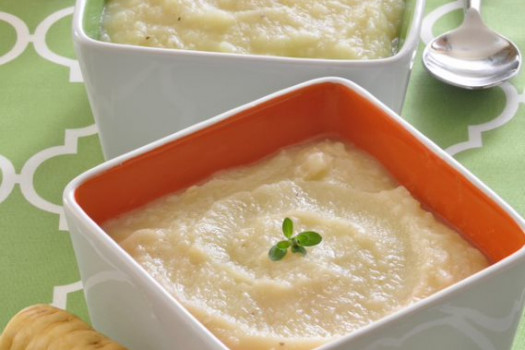 Preparation Time:
20 minutes
If you're looking for delicious ideas for turnips, you've come to the right place! This recipe is full of vegetables and flavor, blended together to create a hearty, satisfying soup.
Ingredients
1 tablespoon vegetable oil
2 cups onion

(chopped)

1/2 cup celery

(chopped)

3 cloves cloves garlic

(chopped or 3/4 teaspoon garlic powder)

1/2 teaspoon salt
1/2 teaspoon black pepper
3 cups parsnips

(chopped, about 1 pound)

1 cup potato

(peeled and cubed)

4 cups low-sodium vegetable broth
1 cup water
1 tablespoon margarine

(unsalted, or butter)
Directions
Wash hands with soap and water.
Heat the oil in a large saucepan over medium heat. Add the onion and celery and cook until soft, about 5 minutes. 
Add the garlic, salt, and pepper; cook for1 minute.
Stir in the parsnips, potato, broth, and water. Bring to a boil, then reduce heat to simmer for 20 minutes or until the parsnips and potatoes are soft. 
Stir in the margarine or butter and let the soup sit uncovered for 5 minutes.
Purée the soup in batches in a blender, using the manufacturer's directions for puréeing hot liquids.
Heat the soup before serving, stirring in water if it seems too thick.
Notes
Source:
Food Hero
Oregon State University Cooperative Extension Service