Recipe Image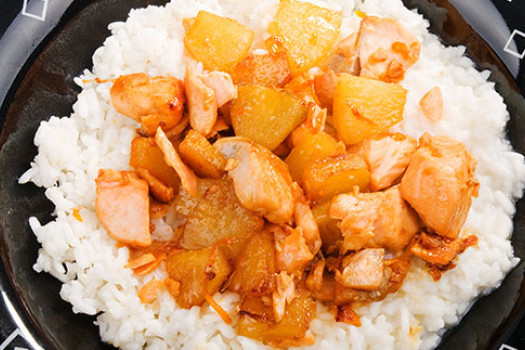 Serve this tangy chicken dish with brown rice. Add brightly colored vegetables for a tasty and simple meal!
Ingredients
2 1/2 pounds chicken, boneless skinless
1/4 teaspoon salt
1/8 teaspoon pepper
1 can pineapple (20 oz. can crushed or chunks)
2 us fluid ounces water
Directions
Wash hands with soap and water.
Coat frying pan with nonstick cooking spray and set heat to low.
Once pan heats up, add chicken. Sprinkle with salt and pepper.
Cook uncovered until chicken begins to brown, then add crushed pineapple and water.
Cover chicken until chicken is tender.
May serve over rice. 
Source:
Pennsylvania Nutrition Education Network.