Recipe Image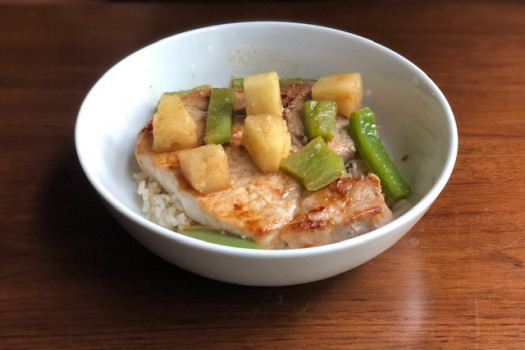 Savory and sweet, delicious pineapple pork chops are a fast and flavorful meal. Enjoy over brown rice or quinoa. 
Ingredients
1 green pepper

(medium)

4 pork chops

(boneless, about 1 pound)

1/8 teaspoon salt
1 tablespoon vegetable oil
1 cup pineapple chunks

(8-ounce, undrained)

1/4 teaspoon ginger
1/4 teaspoon cinnamon
Directions
Wash hands with soap and water.
Cut the green pepper into strips.
Heat the oil in a large skillet.
Place pork chops on the heated skillet. Sprinkle the salt on top.
Cook the pork for 5 minutes on low heat on each side.
The pork should lose its pink color when it's cooked enough.
Remove the cooked pork from the skillet. Place it in a serving dish.
Put the green pepper slices in the skillet.
Stir the in pineapple chunks with their juice.
Stir in the ginger and cinnamon.
Simmer for about 3-5 minutes.
Spoon the pineapple mixture over cooked pork.
Notes
Serve with cooked rice.
Learn more about:
Source:
Pennsylvania Nutrition Education Program, Pennsylvania Nutrition Education Network.