Recipe Image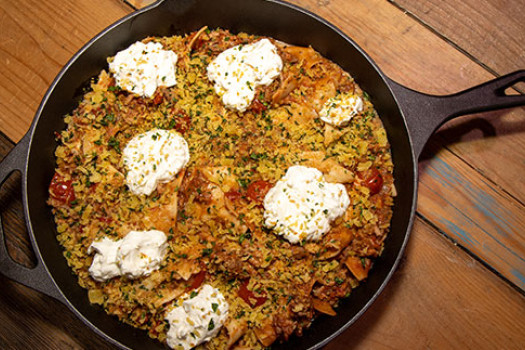 This lasagna can be prepared entirely on the stovetop and uses Parmesan and cottage cheese. Add fresh veggies like green peppers, spinach, or whatever you have on hand to increase flavor and nutrients. Make a meal of it with your favorite fruit. 
Ingredients
1/2 cup onion

(chopped)

1/2 pound ground beef

(90% lean)

1 can tomatoes

(14.5 ounce)

1 cup tomato paste

(6 ounce can)

1 parsley, fresh

(1 Tablespoon, optional)

1 1/2 cups water
1 garlic powder

(1 teaspoon, optional)

2 cups egg noodles

(cooked)

3/4 cup cottage cheese, low-fat
1/4 cup Parmesan cheese
Directions
Wash hands with soap and water.
Chop onion. Cook beef and onion, in  a large frying pan until beef is brown and onion is tender. Drain off excess fat.
Add tomatoes, tomato paste, parsley, water, and garlic powder to the beef mixture. Bring to a boil and simmer until sauce is thick, about 25 minutes.
Cook noodles in a separate saucepan according to package directions. Drain.
Add cooked, drained noodles to the beef mixture. Stir to prevent sticking.
Mix cheeses and drop by spoonfuls into the frying pan.
Cover and heat over low heat about 5 minutes.
Refrigerate leftovers.
Notes
Source:
Eating Right Is Basic
Michigan State University Cooperative Extension Service
Nutrition Education Program