Recipe Image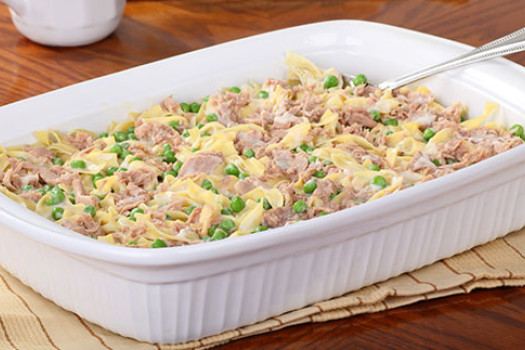 This creamy casserole can be easily prepped in advance. Enjoy it with roasted sweet potatoes or winter squash for a colorful meal.
Ingredients
1 cup water
5 ounces egg noodles

(wide)

1 can cream of mushroom soup

(10.75 ounce)

1/3 cup skim milk
1 can tuna

(6.5 ounces, packed in water, drained)

1 cup green peas

(frozen)

1 cup bread crumbs

(optional)
Directions
Wash hands with soap and water.
Preheat oven to 350 degrees.
Bring 1 quart of water to a boil in a large pot and cook the egg noodles in the water for 2 minutes.
Cover the pot, remove from heat and let stand for 10 minutes.
In the meantime, mix the water, soup and milk together in a bowl.
Combine tuna and peas with the mixture and pour into a 1-quart casserole dish.
Drain the noodles well and combine with the tuna mixture.
Sprinkle the top with bread crumbs if desired.
Bake for 30 minutes.
Notes
To lower sodium content, use reduced-sodium cream of mushroom soup.
Learn more about:
Source:
Healthy Cookbook for African American Populations
Recipe by Tara Caulder, Soaad Ali, and Laide Bello
(Supervised by Dr. Mira Mehta and Terri Kieckhefer)