Quinoa and Black Bean Salad
Recipe Image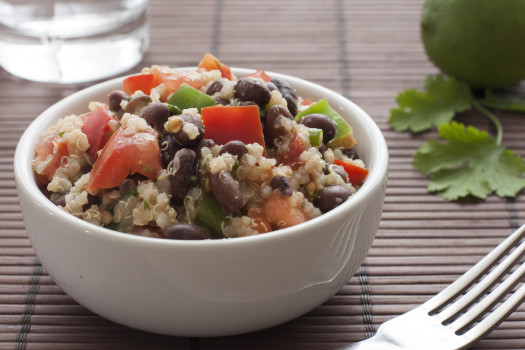 Quinoa (pronounced "KEEN-wah") is a whole grain with origins in South America. It is combined in this recipe with black beans, savory vegetables, and spices for a cold salad that is light and refreshing. This salad is high in protein and can be served as a main or side dish.
Ingredients
1/2 cup quinoa

(dry)

1 1/2 cups water
1 1/2 tablespoons olive oil
3 teaspoons lime juice
1/4 teaspoon cumin
1/4 teaspoon coriander

(ground, dried cilantro seeds)

2 tablespoons cilantro

(chopped)

2 scallions

(medium, minced)

1 can black beans, low-sodium

(15.5 ounce can, rinsed and drained)

2 cups tomato

(chopped)

1 red bell pepper

(medium, chopped)

1 green bell pepper

(medium, chopped)

2 green chiles

(minced, to taste)

black pepper

(to taste)
Directions
Wash hands with soap and water.
Rinse the quinoa in cold water. Boil water in a saucepan, and then add the quinoa.
Return to boil, and then simmer until the water is absorbed, 10 to 15 minutes. Cool for 15 minutes.
While quinoa is cooking, mix olive oil, lime juice, cumin, coriander, chopped cilantro, and scallions in a small bowl, and set aside.
Combine chopped vegetables with the black beans in a large bowl, and set aside.
Once quinoa has cooled, combine all ingredients and mix well.
Cover and refrigerate until ready to serve.
Source:
Delicious Heart-Healthy Latino Recipes/ Platillos Latinos Sabrosos y Saludables
US Department of Health and Human Services
National Heart, Lung, and Blood Institute