Red Potato and Cabbage (Colcannon)
Recipe Image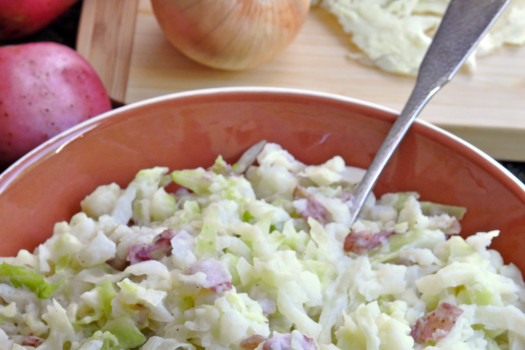 Preparation Time:
15 minutes
Hearty, delicious, and sure to please any crowd. This recipe is filling enough to stand alone or could make a great side dish.
Ingredients
3 1/2 cups red potatoes (about 1 pound)
1 tablespoon margarine or butter
1/2 cup chopped onion
6 cups thinly sliced green cabbage (about 1/2 head)
1 cup 1% or nonfat milk
1 teaspoon salt
1/4 teaspoon black pepper
Directions
Wash hands with soap and water.
Scrub potatoes, but do not peel. Cut into quarters. Cook in boiling water or steam until tender, about 15 to 20 minutes.
While potatoes cook, heat butter or margarine in a large skillet over medium high heat. Add onion and cook until it becomes clear, about 3 to 5 minutes.
Add cabbage and cook, stirring occasionally, until cabbage begins to brown, about 4 to 6 minutes.
Reduce heat to low. Add milk, salt, and pepper. Cover and cook until cabbage is tender, about 6 to 8 minutes.
Drain potatoes. Add cabbage mixture to potatoes. Mash with a potato masher or large fork to reach desired texture. Serve warm.
Notes
Source:
Food Hero
Oregon State University Cooperative Extension Service