Recipe Image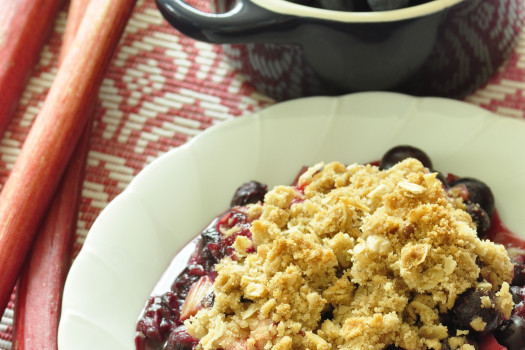 Preparation Time:
15 minutes
A great twist on a classic dish, this is the perfect mix of sweet and tart. Whether you are making this for an event or for your family at home, this treat is sure to please!
Ingredients
Topping
1/4 cup packed brown sugar
1/2 cup all-purpose flour
1/2 cup old fashioned rolled oats
1/4 cup margarine or butter, melted
Fruit Filling
3 cups chopped rhubarb
3 cups blueberries
2 tablespoons cornstarch
1/2 cup sugar
1 cup 100% fruit juice (any type)
1 teaspoon vanilla
Directions
Wash hands with soap and water.
Preheat oven to 350 degrees F.
In a medium bowl, stir together brown sugar, flour and oats. Mix in the margarine or butter and set aside.
Spread the rhubarb and blueberries in an 8x8-inch baking dish and set aside.
In a medium saucepan, mix cornstarch and sugar and stir in the juice. Cook over medium heat, stirring all the time, until the mixture has thickened. Turn off the heat.
Stir in vanilla and pour the mixture over the rhubarb and blueberries.
Crumble oat mixture on top of the fruit.
Bake for 45 minutes or until topping is browned and fruit is bubbling at edges. Serve warm or cold.
Notes
Try strawberries instead of blueberries.
Try apple, orange or cranberry blend 100% fruit juice.
Learn more about:
Source:
Food Hero
Oregon State University Cooperative Extension Service