Rice Bowl Breakfast with Fruit and Nuts
Recipe Image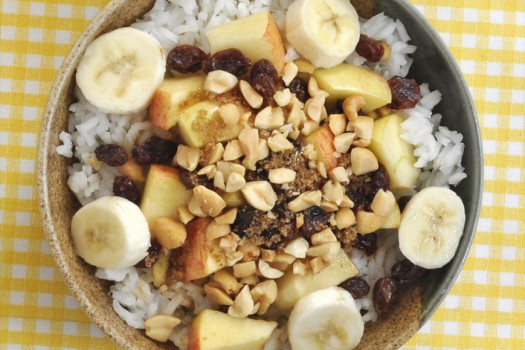 Preparation Time:
15 minutes
The sweet and savory combination of ingredients in this rice bowl makes it a great start to your day. Rice, fruit, and nuts come together to create a nutritious, filling breakfast.
Ingredients
1 cup cooked brown rice
1/2 cup nonfat (skim) milk

(or 1% milk)

1/2 teaspoon cinnamon
1 cup chopped fruit (try a mixture - apples, bananas, raisins, berries, peaches)
2 tablespoons chopped nuts (try walnuts or almonds)
Directions
Wash hands with soap and water.
Combine cooked rice, milk and cinnamon in a microwave-safe bowl. Microwave on HIGH for 45 seconds. Stir and heat for another 45 to 60 seconds, or until rice mixture is heated through.
Divide rice mixture between two bowls. Top with fruit and nuts. Serve warm.
Refrigerate leftovers within 2 hours.
Notes
Use any combination of fresh, canned, frozen, and dried fruit in this recipe.
You can use any leftover cooked grain in this recipe. Try white or wild rice, quinoa, barley, or oatmeal.
Skim milk, apples, and walnuts were used for nutrition and cost analysis.
Learn more about fruits and what's in season now.
Source:
Food Hero
Oregon State University Cooperative Extension Service