Recipe Image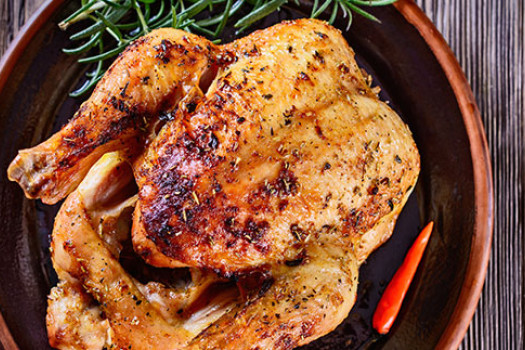 Roasted chicken is a simple and classic recipe that will never go out of style. Experiment with different seasonings, if you'd like. Try it with your favorite vegetables on the side for a delicious meal. 
Ingredients
1 chicken, whole
1 tablespoon olive oil

(or canola oil)

1 teaspoon Italian seasoning
1 teaspoon garlic powder
salt and pepper

(to taste, optional)
Directions
1. Preheat oven to 375°F.
2. Combine Italian seasoning, garlic powder, salt and pepper (optional).
3. Rub chicken with oil, then rub with spice mixture.
4. Place chicken, breast side down, in roasting pan or Dutch oven.
5. Bake, uncovered, until internal temperature reaches at least 165°F.
6. Let chicken rest for 10 minutes before cutting.
Notes
For more flavor, try other seasonings like 1 teaspoon rosemary or thyme.
Serve with mashed sweet potatoes.
Source:
University of Minnesota Extension.