Recipe Image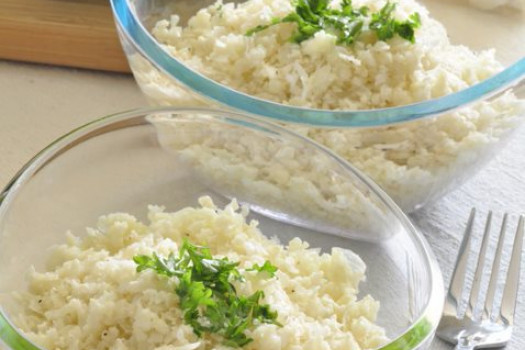 Preparation Time:
15 minutes
Cauliflower can be made into a rice alternative with just a few simple ingredients. Make this fresh-tasting side dish by pairing cauliflower with garlic, onion, and more.
Ingredients
1 tablespoon vegetable oil
1/2 cup diced onion
1 clove garlic, minced

(or 1/4 teaspoon garlic powder)

1 medium cauliflower

(grated or finely chopped, 4 to 5 cups)

1/2 teaspoon salt
1/4 teaspoon black pepper
1 tablespoon lemon juice or lime juice

(optional)

2 tablespoons chopped fresh parsley or cilantro

(optional)
Directions
Wash hands with soap and water.
Heat oil in a large skillet or saucepan on medium heat. Add onion and cook until soft, 3 to 5 minutes.
Add garlic, cauliflower, salt, and pepper. Stir until cauliflower is tender, 3 to 5 minutes.
Stir in lemon juice and sprinkle with parsley, if desired. Serve warm.
Notes
Use as a side dish or as a base for stir-fries, chili, or anything you might eat with rice.
Add any sautéed or roasted vegetables.
Top with grated or crumbled cheese.
Freeze extra lemon or lime juice to use later.
Learn more about:
Source:
Food Hero
Oregon State University Cooperative Extension Service