Recipe Image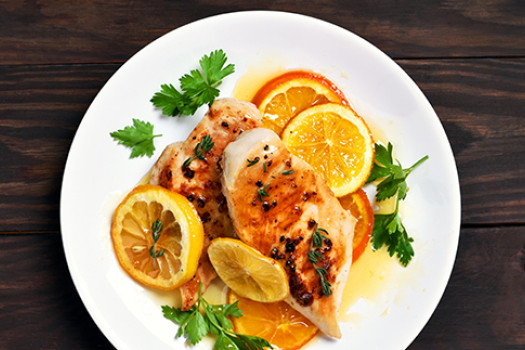 A delicious and simple chicken dish. Enjoy with a fresh salad and brown rice, or a whole grain roll.  
Ingredients
4 chicken breasts, boneless & skinless
1 large orange
2 tablespoons soy sauce, low-sodium
Directions
Wash hands with soap and water.

Slice the orange to make round slices and set aside.

Place 4 chicken breasts in a 1-gallon size plastic zipper bag.

Add the liquid to the bag with the chicken.

Zipper the bag closed and gently massage to mix the liquids and evenly cover the chicken inside the bag.

Let the chicken marinate in the bag in the refrigerator for 4 or more hours.

Preheat oven to 350°F.

Spray shallow oven-proof baking dish with non-stick spray large enough to place chicken in single layer in the baking dish.

Remove the chicken from the bag, place in a single layer in the baking dish. Throw away the zipper bag from the chicken.

 Bake chicken uncovered for 20 minutes.

Turn the chicken over, cover with orange slices that were set aside, and bake 15 more minutes (total of 35 minutes).

Check with a food thermometer. Temperature should reach 165°F.

 Serve chicken topped with an orange slice from the baking dish if desired.
Source:
Simple Healthy Recipes
Oklahoma Nutrition Information and Education
ONIE Project