Spaghetti Squash with Tomatoes, Basil, and Parmesan
Recipe Image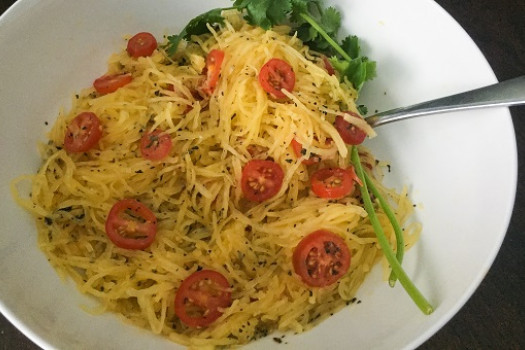 Here is a delicious late summer side dish bursting with fresh flavors. This dish would go well with a grilled entrée.
Ingredients
1 1/2 pounds spaghetti squash

(about 1 squash)

1 tablespoon olive oil
3 tablespoons Parmesan cheese
1/4 teaspoon dried oregano
2 teaspoons dried basil

(or 1/2 cup fresh basil, chopped)

1 cup cherry tomatoes

(thinly sliced)

salt and pepper

(to taste, optional)
Directions
1. Place the 2 squash halves, cut side down, in glass baking dish. Add about 1/4 cup water and cover with plastic wrap. Microwave on high 12 minutes or until soft when pressed. Let stand covered for 3 minutes.
2. In a large bowl, whisk oil, basil, oregano and 2 Tablespoons Parmesan. Stir in tomatoes and season lightly with salt and pepper to taste.
3. Scrape squash out with a fork, add strands to tomato mixture and toss until combined. Sprinkle with remaining 1 Tablespoon Parmesan cheese.
Source:
Eat Smart. Be Fit.
University of Maryland Extension