Recipe Image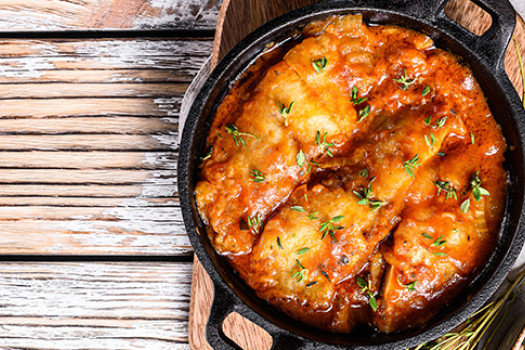 This delicious fish will pair well with spaghetti squash when in season, and whole wheat pasta or brown rice the rest of the year.
Ingredients
1 pound perch fillets, fresh or frozen
1 cup tomato sauce
1 onion

(small)

1/2 teaspoon garlic powder
2 teaspoons chili powder
1 teaspoon oregano
1/8 teaspoon cumin

(ground)
Directions
1. Preheat the oven to 350 degrees F.
2. Lightly grease the baking dish with butter or margarine.
3. Separate the fish into 4 fillets or pieces.
4. Put the fish pieces in the baking dish.
5. Peel the onion, and cut it into slices.
6. Stir the onion, tomato sauce and spices together in a small bowl.
7. Pour the onion-spice mix evenly over the fish pieces.
8. Bake about 10 to 20 minutes, until the fish flakes easily with a fork.
 
Source:
Pennsylvania Nutrition Education Network