Recipe Image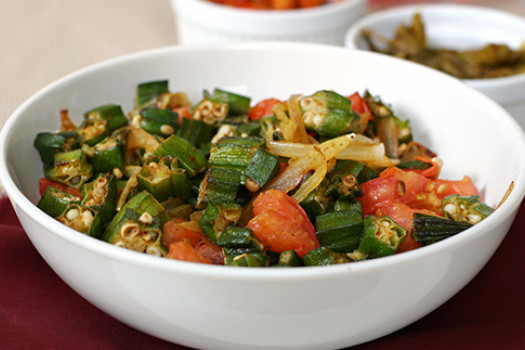 Okra cooked with tomatoes, onions, and hot peppers creates the perfect spicy side dish for your favorite entrée. 
Ingredients
2 packages frozen cut okra

(10 oz each)

1 tablespoon vegetable oil
1 onion

(medium, coarsely chopped)

1 can tomatoes

(14.5 ounces, diced, unsalted)

1 jalapeno pepper

(fresh, or habanero chile, pierced 3 times with fork)

1/2 teaspoon salt
1/4 teaspoon black pepper
Directions
Wash hands with soap and water.
Rinse okra in a colander under hot water.
Heat oil in a 10-inch heavy skillet over moderately high heat. Saute onion for about 3 minutes.
Add tomatoes (including juice) and chile, and boil. Stir the mixture for 8 minutes.
Add okra and cook, gently stirring, until okra is tender, about 5 minutes.
Stir in salt and pepper and discard the chile.
Source:
Heart Healthy Home Cooking: African American Style
US Department of Health and Human Services
National Heart, Lung, and Blood Institute