Recipe Image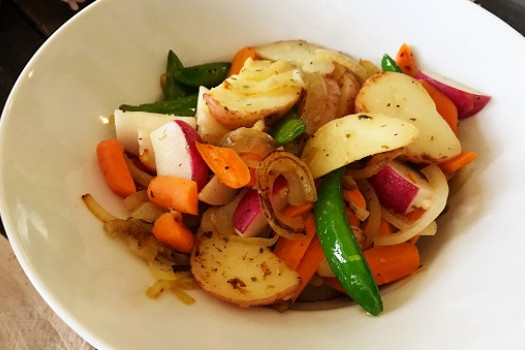 Bursting with delicious spring flavors, this delicious sauté is perfect with a side of roasted chicken, fish, or tofu.
Ingredients
1 teaspoon olive oil
1/2 cup sweet onion

(sliced)

1 garlic clove

(finely chopped)

3 new potatoes

(tiny, quartered)

3/4 cup carrot

(sliced)

3/4 cup asparagus pieces
3/4 cup sugar snap peas, or green beans
1/2 cup radishes

(quartered)

1/4 teaspoon salt
1/4 teaspoon black pepper
1/2 teaspoon dill

(dried)
Directions
Wash hands with soap and water.
Heat the oil in a skillet. Cook the onion 2 minutes, add the garlic and cook another minute
Stir in the potatoes and carrots. Cover, turn the heat to low, and cook until almost tender, about 4 minutes.
If the vegetables start to brown, add a Tablespoon or 2 of water.
Now add the asparagus, peas, radishes, salt, pepper, and dill. Cook, stirring often, until just tender - about 4 minutes more.
Serve immediately.
Source:
National Cancer Institute (NCI).