Recipe Image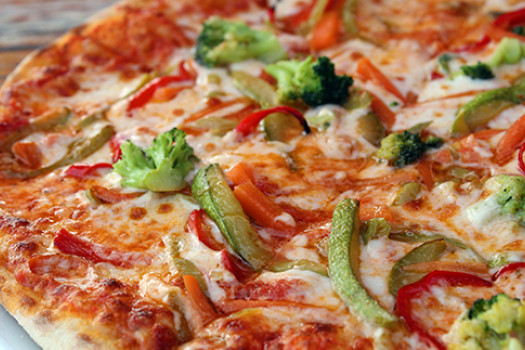 Enjoy fresh, delicious pizza made at home. You can spice this up with red pepper flakes or garlic powder. Try with whatever vegetables you have on hand.
Ingredients
3/4 cup pizza sauce
1 Italian pizza shell

(large)

1 cup broccoli

(chopped)

1 cup carrots

(shredded)

1/2 cup bell pepper

(red or green, sliced)

5 ounces mozzarella cheese, part skim

(shredded)
Directions
1. Preheat the oven to 450°F.
2. Spoon pizza sauce on pizza shell.
3. Put pizza shell on a cookie sheet. Arrange vegetables over sauce. Sprinkle on the cheese.
4. Bake for 10 minutes.
5. When baked, cool pizza for 3 minutes before slicing. Cut into 8 wedges.
Source:
California 5 A Day, It's So Easy
Contra Costa Health Services