Stir-Fry with Chicken and Noodles
Recipe Image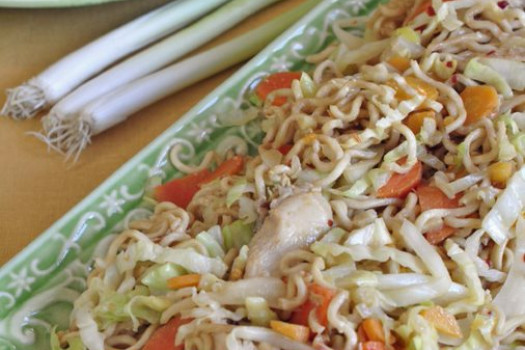 Preparation Time:
10 minutes
This recipe is quick to make and adaptable to your own taste! You could make it vegetarian by removing the chicken or add some extra crunch by using crunchy peanut butter.
Ingredients
4 cups water
2 packages ramen-style noodles

(3 ounces each)

2 chicken breasts, boneless, skinless, cut into strips
1/4 cup peanut butter
2 tablespoons soy sauce, reduced sodium
1/2 cup water
1 tablespoon vegetable oil
1 teaspoon red pepper flakes
1 teaspoon finely chopped fresh ginger

(or 1/2 teaspoon ground ginger)

2 carrots, thinly sliced

(about 2 cups)

1/2 head cabbage, thinly sliced

(about 6 cups)

1/4 cup green onion, thinly sliced
Directions
Wash hands with soap and water.
Bring 4 cups water to boil in a 2 to 3 quart saucepan. Add noodles, cover, and remove from heat (do not add flavor packets). Wait one minute, drain noodles and set aside.
In a small saucepan, combine peanut butter, soy sauce and 1/2 cup water. Heat over low heat, stirring until smooth. Remove from heat.
Heat oil in a large skillet over medium-high heat (350 degrees F in an electric skillet). Add chicken and cook until no longer pink when cut, about 3 to 5 minutes.
Add red pepper, ginger, and carrots and cook for 2 to 3 minutes. Add cabbage and cook 3 to 4 minutes or until cabbage is crisp-tender.
Stir in green onion, cooked noodles and peanut sauce. Toss and serve right away.
Notes
Source:
Food Hero
Oregon State University Cooperative Extension Service