Recipe Image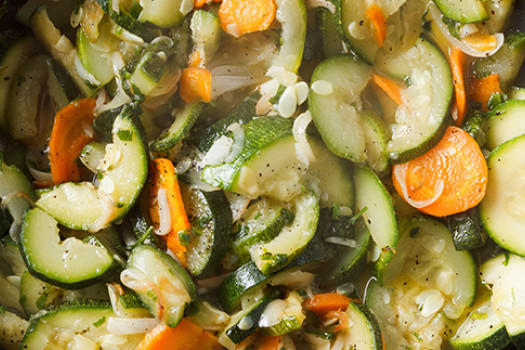 Jazz up this summer dish by adding cumin, garlic powder, or fresh basil.
Ingredients
1 tablespoon olive oil

(or other vegetable oil)

1 small onion, chopped
2 cups summer squash

(washed and sliced)

1 cup carrots, thinly sliced
seasonings, to taste, optional

(Suggested seasonings: garlic powder, pepper, cumin, thyme, basil, or oregano.)
Directions
Wash hands with soap and water.
In a skillet (the larger the better), heat oil on medium-high heat.
Add onion and stir fry until onion is clear and begins to brown.
Add carrots and stir until carrots are tender and crisp. Add squash and cook for about 2 minutes. Lower heat.
Add seasonings of choice. Cook for 2 more minutes. Serve as a side dish.
Source:
Connecticut Food Policy Council