Recipe Image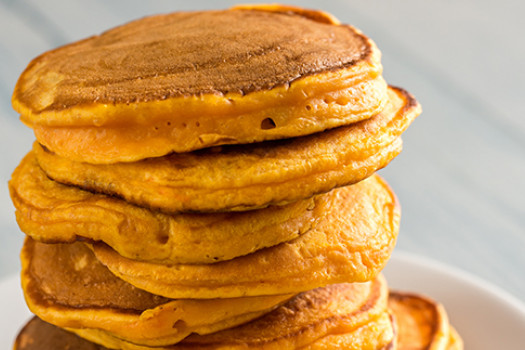 Jazz up traditional pancakes by adding spices and sweet potatoes. Increase your fruits by topping with homemade applesauce.
Ingredients
1 cup complete pancake & waffle mix (or 1 8-ounce package)
1 teaspoon pumpkin pie spice
1 teaspoon vanilla
3 teaspoons brown sugar

(1 Tablespoon, packed)

1/2 cup mashed sweet potatoes

(or winter squash, or pumpkin (baked or canned))

3/4 cup water
chopped nuts

(1/4 cup, optional)
Directions
1. Combine all ingredients and stir just until large lumps disappear. Over-stirring will cause tough pancakes.
2. Pour slightly less than 1/4 cup batter for each pancake onto skillet or electric griddle at 350°F-375°F.
3. When pancakes bubble around edges and towards center, sprinkle with chopped nuts (if you choose) and flip pancakes.
4. Pancake is done when bottoms are golden brown.
5. Serve with applesauce or syrup.
 
Source:
USDA Supplemental Nutrition Assistance Program (SNAP)