Recipe Image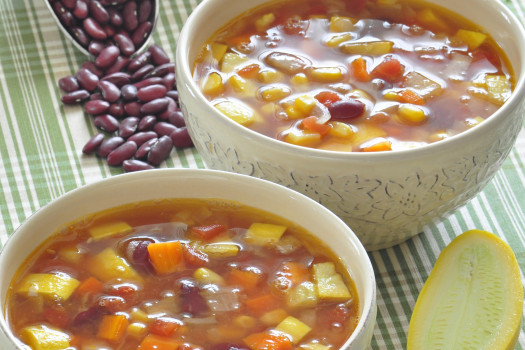 Preparation Time:
15 minutes
A true comfort recipe to warm you up year-round. Make it your own by using any vegetables or beans that you have on hand.
Ingredients
1 1/2 tablespoons vegetable oil
3/4 cup diced carrot
1 cup chopped onion
4 cloves garlic, minced or 1 teaspoon garlic powder
2 cups diced summer or winter squash (fresh or frozen)
1 1/2 cups corn (fresh or frozen) or a 15-oz can (drained and rinsed)
1 1/2 cups cooked beans (any type) or a 15-oz can (drained and rinsed)
1 can (14.5 ounces) diced tomatoes or 2 cups diced fresh
3 cups low-sodium broth (any type)
1 teaspoon cumin
1/4 teaspoon black pepper
Directions
Wash hands with soap and water.
Heat oil in a large pan on medium heat. Add carrot and onion and saute until onions have begun to turn slightly brown, about 8 to 10 minutes.
Add garlic, squash and corn and continue to stir for another 3 to 4 minutes.
Add beans, tomatoes, broth, cumin and pepper.
Allow soup to come to a boil and then turn heat down to a simmer until all vegetables are tender to taste (15 to 30 minutes, depending on the vegetables used).
Notes
Try This: Change the vegetables and beans based on what you have on hand. Instead of cumin, try 2 to 3 teaspoons of Italian seasoning or 1 Tablespoon of curry powder.
Learn more about:
Source:
Food Hero
Oregon State University Cooperative Extension Service