Vegetable Medley with Salsa Dip
Recipe Image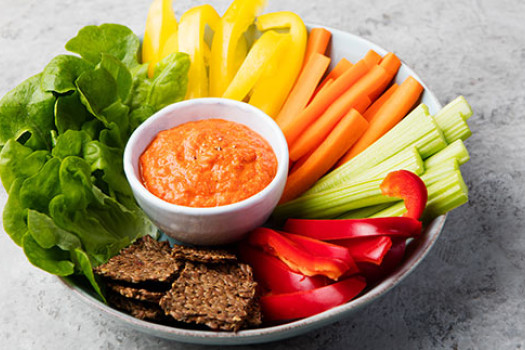 Use this colorful veggie plate at your next party or gathering.
Ingredients
2 carrots

(cut into 3-inch sticks)

2 celery stalks

(cut into 3-inch sticks)

1 cup bell pepper

(green or other color)

1 cup sour cream, fat free
1 cup fresh salsa (see recipe below)
Fresh Salsa
1 lime

(juiced)

2 tomatoes

(chopped)

1/2 onion

(chopped)

3 jalapeno chiles

(finely chopped, seeded if desired)

1/4 cup cilantro

(chopped fresh)

1/4 teaspoon salt
Directions
Wash hands with soap and water.
Arrange vegetables on a platter.
In a small bowl, mix sour cream and salsa. Serve.
Fresh Salsa Preparation:
In a medium bowl, mix lime juice, tomatoes, onions, jalapeño chiles, cilantro, and salt.
Store salsa in refrigerator for up to three days in a covered plastic or glass container.
Notes
Feel free to serve with whatever vegetables you have on hand. Could also be served with crackers.
Source:
California 5 A Day, It's So Easy
Contra Costa Health Services