Recipe Image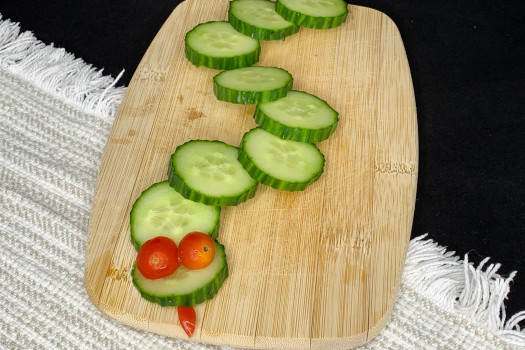 Preparation Time:
5 minutes
Get creative with your fresh veggie snacks. This recipe calls for cucumber and tomatoes, but you can use your favorite veggies for this snack.
Ingredients
1 cucumber, small
1 tomato, small

(or 2 grape tomatoes)
Directions
1. Wash hands with soap and water.
2. Wash ingredients.
3. Put cucumber slices (see notes) on a small plate to form a snake.
4. Add 2 slices of tomatoes for eyes.
5. Enjoy your Vegetable Snake.
Notes
Adults: Use a sharp knife to slice the cucumber and tomato into thin slices crosswise.
Source:
Chickasaw Nation Get Fresh! Nutrition Education Program