Recipe Image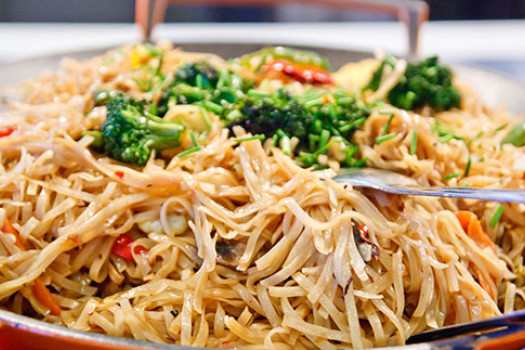 This noodle dish combines the crunch of fresh veggies with the flavors of onion, garlic, and soy sauce to create a delicious and easy stir fry. Make it a family favorite using your favorite veggies.
Ingredients
6 ounces spaghetti noodles

(or thin flat egg noodles)

4 teaspoons oil
1 onion

(medium, finely chopped)

2 garlic clove

(finely chopped)

1 cup carrot

(grated)

2 teaspoons chicken bouillon
1 teaspoon hot pepper sauce
1 cup broccoli

(cut into small pieces)

1 cup celery

(chopped)

1 cup bell pepper

(green or red, finely chopped)

4 teaspoons soy sauce, reduced sodium
Directions
Wash hands with soap and water.
Prepare noodles according to package directions. Drain and set aside.
Cook onion and garlic with oil in frying pan for 1 minute over medium/high heat.
Add carrot, chicken bouillon, and pepper sauce. Stir.
Add broccoli, celery, and bell pepper and continue to stir.
Reduce heat to low and add noodles and soy sauce. Mix well over low heat for 3 to 5 minutes.
Add salt and pepper to taste.
Notes
Source:
University of Illinois, Extension Service.