Recipe Image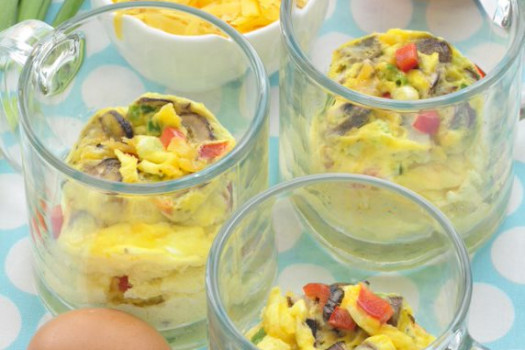 Preparation Time:
10 minutes
Making a veggie omelet has never been so easy! Combine all of your ingredients in a mug, pop it in the microwave, and breakfast is ready!
Ingredients
2 eggs
2 tablespoons 1% low-fat milk

(or nonfat/skim milk)

1 pinch salt
1 pinch pepper
1/4 cup finely chopped mushrooms

(or your favorite vegetables)

2 tablespoons shredded cheddar cheese

(or your favorite cheese)
Directions
Wash hands with soap and water.
Lightly grease the inside of a 12-ounce microwave-safe mug.
Use a fork to combine the eggs, milk, salt and pepper in the mug and stir well.  Mix in the vegetables and cheese.
Microwave on HIGH for 45 seconds. Stir. Return to the microwave and cook on HIGH until the mixture has puffed and set, 60 to 90 seconds. The omelet may look wet on the top but it will dry as it cools.
Refrigerate leftovers within 2 hours.
Notes
To make a meal, serve with a slice of whole grain toast and fruit.
Learn more about vegetables and what's in season now.
Source:
Food Hero
Oregon State University Cooperative Extension Service