Recipe Image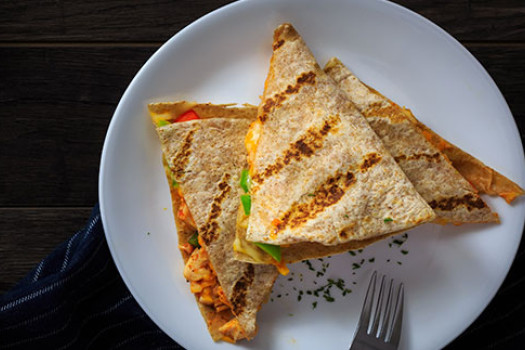 This dish, full of veggies and cheese, is made with whole wheat tortillas. Top with salsa and use whatever veggies you have on hand.
Ingredients
cooking oil spray
1 small zucchini

(small, washed and chopped)

1/2 broccoli head

(washed and chopped)

1 green bell pepper

(washed, seeded and chopped)

1 onion

(medium, peeled and chopped)

1 carrot

(scrubbed and shredded)

4 whole wheat tortillas

(10-inch)

1 cup cheddar cheese

(shredded low-fat)

1/2 cup salsa
Directions
Wash hands with soap and water.
Spray pan with cooking oil spray.
Cook vegetables on medium heat for 4-5 minutes, stirring frequently. Remove from pan.
Spray pan with cooking spray. Place tortilla in the pan. Sprinkle with half the vegetables and half of the cheese.
Place the other tortilla on top. Cook on medium heat for 4-6 minutes or until the cheese starts to melt and the bottom tortilla starts to brown.
Flip quesadilla. Cook for 4 minutes or until tortilla browns.
Repeat steps 3-5.
Cut each quesadilla in half. Serve with salsa.
Notes
Other Ideas
Try a variety of vegetables: eggplant, tomatoes, mushrooms, green beans, cauliflower, garlic, corn or spinach.
Season with fresh herbs - parsley, basil, cilantro, oregano, or dill.
Sprinkle dry herbs - Italian seasoning, chili powder, cumin, or your favorite.
Top with your favorite spicy salsa.
Learn more about:
Source:
2009 Recipe Calendar
University of Maryland Extension
Food Supplement Nutrition Education Program