Recipe Image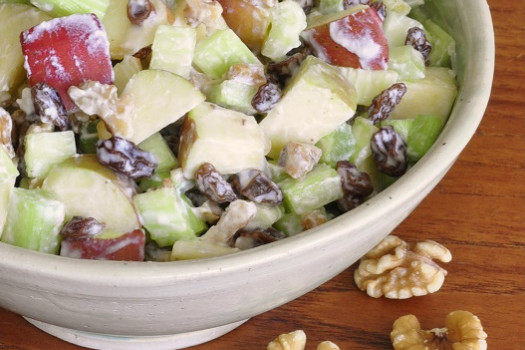 Extra apples from the market? Try this Waldorf Salad with walnuts and crunchy fall apples.
Ingredients
1/4 cup walnuts

(chopped)

2 apples

(cored and diced)

1 cup celery

(diced)

1/2 cup raisins
1/4 cup plain yogurt, non-fat
1/2 teaspoon sugar
1 teaspoon lemon juice
Directions
Wash hands with soap and water.
Preheat oven to 350 degrees.
Place chopped walnuts on a baking sheet and bake for 12-15 minutes. Stir occasionally until they are evenly toasted.
Combine apples, celery, nuts, and raisins.
Stir together yogurt, sugar, and lemon juice. Pour over apple mixture and toss lightly.
Refrigerate leftovers within 2 hours.
Notes
Source:
Food Hero
Oregon State University Cooperative Extension Service