Recipe Image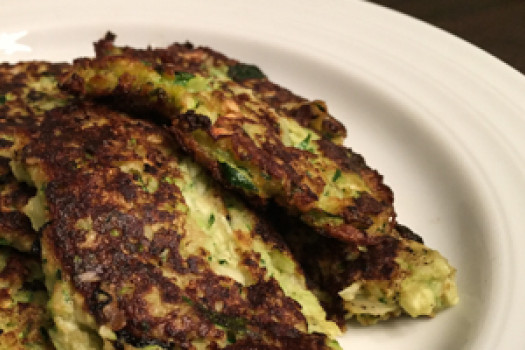 Try this veggie side dish with different variations by adding combinations of your favorite veggies - grated carrots, spinach, cauliflower, or broccoli all work.  You can serve this dish with applecause or sour cream.
Ingredients
2 cups grated zucchini
1 tablespoon finely chopped onion
1 egg, beaten
1 1/2 tablespoons flour
1 tablespoon Parmesan cheese
1/4 teaspoon dried parsley
1/2 teaspoon garlic powder
salt and pepper

(to taste, optional)

1 tablespoon olive oil

(or cooking spray)
Directions
Grate zucchini and mix with the other ingredients, except the oil. Blend well.
Form the mixture into patties 3-4 inches in diameter.
Heat the oil. Cook pancakes for 3-4 minutes per side. Remove and drain on paper towels.
Source:
University of Wyoming, Cent$ible Nutrition Program.