Pregnancy and Breast­feeding
Make your health a priority during this special time.
Making healthy food choices and staying active will support your baby's growth. This will also help you stay healthy during your pregnancy and while breastfeeding/ lactating.
Image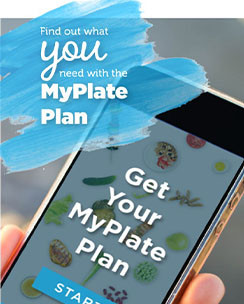 Get Your Plan
You may have different calorie needs during pregnancy and while breastfeeding/ lactating. Get your MyPlate Plan to learn how many calories you may need. Work closely with your healthcare provider to learn the right eating plan for you.
Image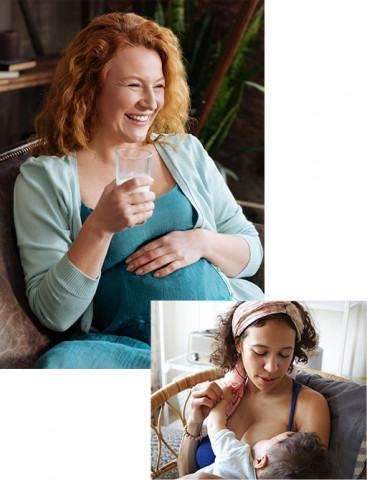 Make Safe Choices
Food Safety During Pregnancy
You and your unborn child are at greater risk for the effects of foodborne illness (also called food poisoning). Keep food safe and follow safe food handling and cooking practices to lower your chance of getting a foodborne illness.

Make sure that seafood, meat, poultry, or eggs have been cooked to the recommended safe internal temperatures. See this guide from FDA for temperature information.
Avoid eating or drinking these items:

Unpasteurized (raw) juice or milk
Raw sprouts
Some soft cheeses made from unpasteurized milk

Reheat deli and luncheon meats and hot dogs to steaming hot or 165 °F.
More information is available at CDC's Maternal Diet webpage.

Food Allergies in Your Child
Unless advised by your doctor, you do not have to restrict your food and drink choices during pregnancy or while breastfeeding/ lactating to keep your child from getting food allergies.
Alcohol
Pregnant women and women who may become pregnant should not drink alcohol. Drinks that have alcohol include beer, wine, liquor, mixed drinks, and malt beverages. No amount of alcohol is safe for your baby when you are pregnant. Talk with your doctor if you are thinking about drinking alcohol while you are breastfeeding/ lactating.
Caffeine
Caffeine is found in coffee, tea, and soda. Ask your healthcare provider about having caffeine during pregnancy and while you are breastfeeding/ lactating.