Help your preschooler eat well, be active, and grow up healthy!
Young children look to you as they learn, develop and grow healthy eating habits. Make every bite count.
Image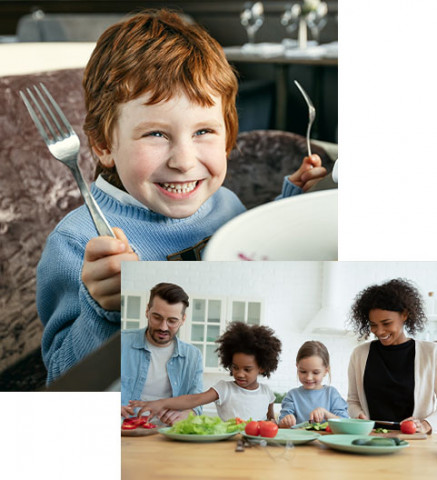 Picky Eating
Picky eating is common for many preschoolers as they grow up and become more independent. Try the following tips to help them during this time:
Your preschooler may not eat the exact amounts suggested every day. Try to balance the amounts over a few days or a week.
Offer different foods from day to day. Encourage your child to choose from a variety of foods.
Serve foods in small portions during regular meals and snacks times.
Your child may not want to try new foods. Try serving a new food with a food they know and like in the same meal. It may take up to 12 tries for a child to accept a new food.
Let your child help prepare meals. Children get excited about tasting foods when they have helped make them.
MyPlate Tips on Alexa
Get MyPlate nutrition information straight to your home on your Amazon Alexa smart speaker, or on your phone or tablet via the free Amazon Alexa app. For more information, visit our MyPlate Alexa page.
Below are some of the many tips available for parents and caregivers on what and how to feed your preschooler. And just like the MyPlate.gov website and MyPlate tools, all of the information provided by MyPlate on Alexa is based on the Dietary Guidelines for Americans, 2020-2025.
Added Sugars
Try chilled, plain water or sparkling water with a squeeze of fruit for a splash of flavor. Limit sugary beverages such as soda, lemonade, sports drinks, or fruit drinks.
Dietary Fiber
Include fruit at breakfast. Top cereal with a favorite seasonal or frozen fruit, add bananas or chopped apples to pancakes, or mix raisins into hot oatmeal.
Grains
Switch up pizza night. Create individual, homemade pizzas on whole-wheat English muffins or tortillas. Or, serve a traditional pizza using a pre-made whole-wheat flour. Don't forget the veggie toppings.
Protein
Get creative with beans, peas, and lentils. Serve chili or stews with kidney or pinto beans, a bowl of split pea soup for lunch or dinner, or lentils as a side dish. Check online for recipe ideas.
Dairy/ Fortified Soy Alternatives
Include dairy in the morning. Serve a bowl of unsweetened cereal with low-fat or fat-free dairy milk or soy beverage. Or, top plain low-fat or fat-free yogurt with chopped or sliced fruit to include another food group.
Sodium/ Salt
Go easy on the salt. Serve fresh foods when possible or low-sodium packaged foods. Add flavor to foods with spices and herbs and skip the salt shaker at the table.
Beverages
Encourage kid-friendly drinks. Make water, low-fat or fat-free dairy milk, or unsweetened seltzer the go-to options for your kids. Serve 100% juice only on occasion.
Added Sugars
Sweeten foods with fruit. Mix fruit into plain yogurt, cooked oatmeal, and smoothies to sweeten without adding sugar. Or, combine plain yogurt, uncooked oats, and fruit for some overnight oats.
Calcium
The nutrients in dairy are important for all ages. Serve foods like low-fat or fat-free dairy milk or yogurt. Need an alternative? Offer lactose-free dairy milk or yogurt that's low-fat or fat-free. You can also offer fortified soy versions.
Healthy Eating
Looking for a healthy snack idea? Serve whole-grain crackers with turkey, hummus, or avocado for a tasty whole-grain snack.
Protein
Add protein to a salad. Grilled chicken or shrimp adds tasty protein to a salad of mixed greens. Chickpeas or black beans are delicious, budget-friendly options, too.
Healthy Eating
Meatless meals are tasty and budget friendly. Serve bean-based vegetarian chili or lentil soup, or some grilled tofu with vegetables.
Fats
Serve fatty fish like tuna, salmon, and sardines. These foods, as well as vegetable oils like olive and canola, are good sources of unsaturated fat, which is a healthier fat option.