Vegetable Soup with Chicken
Recipe Image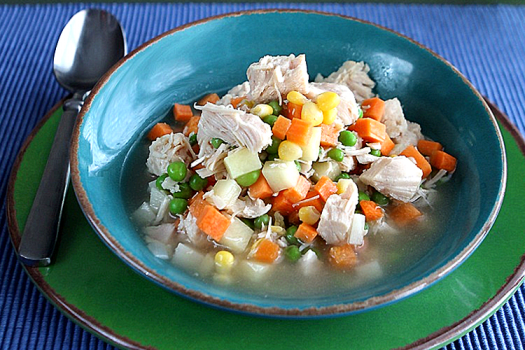 This soup can be prepared quickly in one pot for lunch or dinner. Adapted from a recipe by Natalie Gibson, San Pasqual Reservation.
Ingredients
1 can chicken

(about 12 ounces)

3 cups water
3 ears corn

(or 1 can low-sodium whole kernel corn)

1 can low-sodium peas

(about 15 ounces)

1 pound fresh carrots, peeled and diced

(or 1 can low-sodium carrots, about 15 ounces)

2 pounds potatoes, peeled and diced

(or 2 cans low-sodium sliced potatoes, about 15 ounces each)
Directions
In a large pot, heat the chicken and water over medium to high heat until hot.
Cut the kernels off the ears of corn.
Add the corn kernels and all other ingredients to the pot and boil for 10 seconds.
Lower the heat and simmer for about 30 minutes.
Notes
Tip for cooking chicken: The recommended safe minimum internal temperature for chicken is 165 degrees F, as measured with a food thermometer.
Source:
A Harvest of Recipes with USDA Foods.