Recipe Image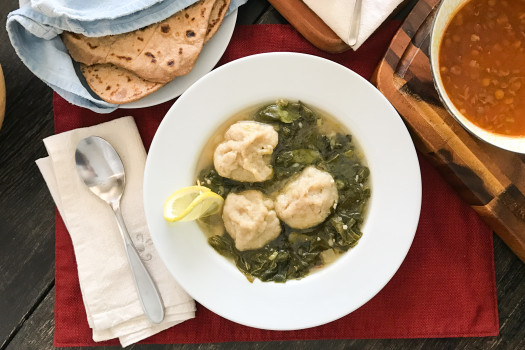 This traditionally Kurdish dish is delicious, fresh, and flavorful! The beef dumplings are enjoyed in a soup that is loaded with Swiss Chard. This will be your newest family favorite!
Ingredients
1 pound ground beef, 85% lean (coarsely ground, if available)
1 tablespoon salad oil
1 cup matzo meal
1 1/2 cups semolina
1 cup water
1 teaspoon salt
6 cloves garlic, chopped (use 6-7 cloves)
10 scallions, chopped
6 cups Swiss Chard

(2 bunches)

lemon juice

(optional)
Directions
Wash hands with soap and water.
Fry ground beef in a small amount of oil.
Prepare the dough by mixing matzo meal, semolina, water, and salt.
Wet hands and shape into walnut-sized pieces.
Roll out dough into a small circle and fill with 1 Tablespoon of meat.
Seal the dough. Continue until all the dough and meat is used.
In a large pot, heat a small amount of oil and fry garlic until golden.
Add the scallions and Swiss chard. Mix well.
Cook about 10 minutes.
Cover with water and continue to cook until boiling.
Add lemon juice, to taste (optional).
Add stuffed dough to soup and cook 15 more minutes.
Notes
Kibbeh Khamoustah is a Kurdish dish. Kibbeh, or dumplings, are stuffed with meat, traditionally lamb or beef, and served with soup.
Learn more about:
Source:
North Dakota Food and Culture: A Taste of World Cuisine
North Dakota State University Extension Service