Grilled Asparagus and Shrimp Quinoa Salad with Lemon Vinaigrette
Recipe Image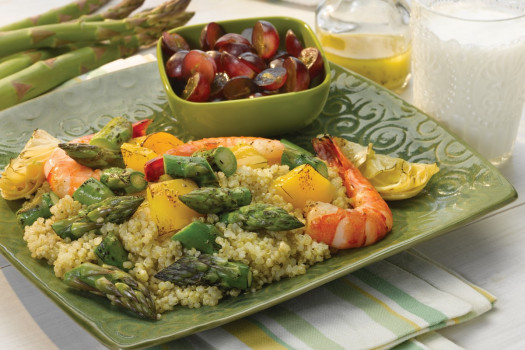 Preparation Time:
45 minutes
Grilling brings out the flavor in fresh vegetables like asparagus. Add shrimp, quinoa, and refreshing lemon vinaigrette, and you have a delicious and quick spring or summer salad.
Ingredients
2 cups fresh asparagus, large spears

(cut into 1" pieces)

1/2 yellow or red bell pepper

(cut into 1/2" pieces)

1 clove garlic

(minced)

1 14 ounce can quartered artichoke hearts

(drained)

12 ounces fresh or frozen large raw shrimp

(peeled and deveined)

1 1/2 cups dry quinoa

(cooked according to package directions)
For the Lemon Vinaigrette:
1 teaspoon grated lemon peel

(optional)

3 tablespoons fresh or bottled lemon juice
3 tablespoons olive oil
1 teaspoon Dijon mustard
1/2 teaspoon dried thyme leaves
1/2 teaspoon ground black pepper
Directions
Place vinaigrette ingredients in a small bowl and whisk; set aside.
Cut vegetables as directed.
Heat grill and grilling tray.
Place vegetables and shrimp in a large bowl; add about 1/3 of the vinaigrette (about 3 tablespoons) and toss.
Spread shrimp-vegetable mixture over hot grilling tray.
Grill, turning shrimp and vegetables, until the flesh of the shrimp is an opaque color (about 5 to 6 minutes); remove from grill.
Serve grill mixture over cooked quinoa, and drizzle with vinaigrette.
Notes
Serving Suggestions: Serve with non fat-milk and grapes.
Learn more about:
Source:
Produce for Better Health Foundation