Recipe Image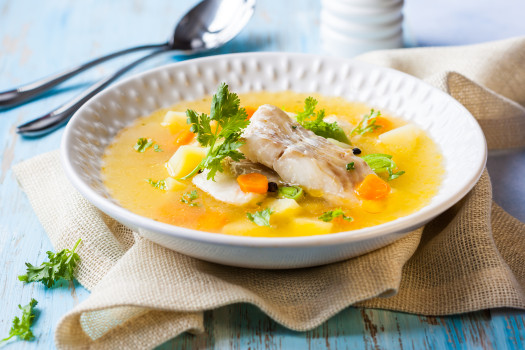 Add a cup of hominy or corn to bulk up this creamy chowder!
Ingredients
4 slices bacon, cooked and chopped
3 tablespoons butter
1/2 cup celery, chopped
1 yellow onion, chopped
1/4 cup all-purpose flour
4 cups cold milk (low-fat or nonfat)
2 cups red potatoes
1 pound walleye, thawed, cut into chunks (2- 8 ounce fillets)
2 tablespoons fresh parsley or green onions, chopped
Salt and pepper to taste
Note: Substitute bacon with turkey bacon or diced ham.
Directions
Wash hands with soap and water.
Heat butter in a large pot over medium-high heat. Add celery and onions and sauté until softened.
Stir in flour to form a roux (a mixture of fat and flour used to thicken sauces or soups). Slowly whisk in the milk.
Add the potatoes and bacon and stir gently. Reduce heat and simmer for 30 minutes or until potatoes are cooked through.
Add fish chunks and cook for an additional 6-8 minutes or until fish reaches the appropriate internal temperature.
Season to taste with salt and pepper. Garnish with parsley or green onions and serve.
Notes
If you want to cut back on sodium, swap the bacon for turkey bacon or ham, or prepare without it.
Optional: Add a cup of traditional hominy or scorched corn
This recipe contains one or more ingredients considered to be traditional or indigenous to Native American communities in certain regions across North America. 
Source:
Recipe adapted from Joe Van Alstine, Little Traverse Bay Bands of Odawa Indians