Recipe Image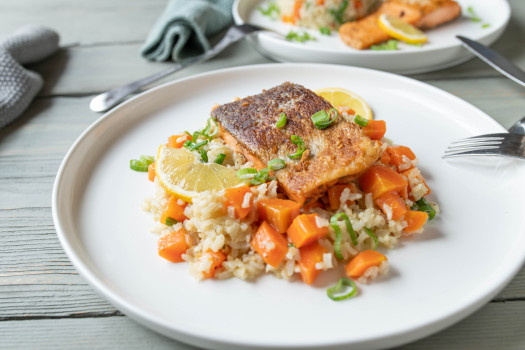 Try this sweet and savory salmon dish with nutty wild rice and a green salad!
Ingredients
1 pound salmon (3-4 fillets), pat dry
2 tablespoons vegetable oil
1 red onion, chopped
1 cup baby carrots (or sweet potato)
1/4 cup parsley, chopped
1 cup orange juice (divided)
1 tablespoon honey
Salt and pepper to taste
1 orange or lemon, cut into wedges (optional)
Directions
Wash hands with soap and water.
Preheat oven to 400 degrees F.
In an oven safe skillet, heat oil on medium high heat.
Add onion, carrots (or sweet potato), parsley, and ½ cup of orange juice. Cook 5-8 minutes.
In a small bowl, mix ½ cup orange juice and honey.
In center of skillet, add salmon fillets and season with salt and pepper.
Pour orange juice and honey mixture over top.
Bake entire skillet in oven 16-18 minutes or until fish is flaky.
Garnish with orange or lemon wedges, if using
Notes
This recipe contains one or more ingredients considered to be traditional or indigenous to Native American communities in certain regions across North America. 
Source:
Recipe adapted from First Nations Development Institute