Recipe Image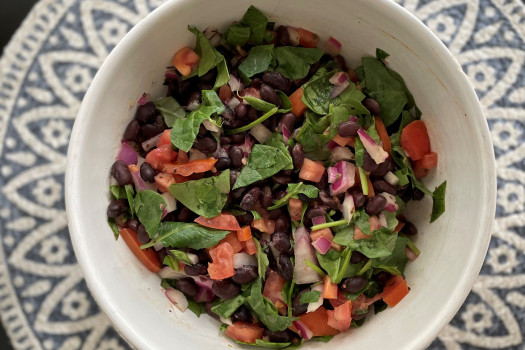 This tasty salad is packed with protein and fiber. Add your favorite salad toppings to make it a fast favorite.
Ingredients
2 tablespoons vinegar
1 tablespoon vegetable oil
1 tablespoon dijon mustard
1 teaspoon garlic powder
1/2 teaspoon dried oregano
1/2 teaspoon dried basil
1/8 ground nutmeg

(1/8 teaspoon, optional)

2 cups spinach

(washed)

1 1/2 cups Black beans, low-sodium, canned, drained and rinsed
2 tomatoes

(chopped)

1 red onion

(small, chopped)
Directions
Wash hands with soap and water.
In a large bowl, combine vinegar, oil, mustard, garlic, oregano, basil and nutmeg.
Wash, drain and chop spinach.
Add spinach, black beans, tomatoes and onions to vinegar and oil. Toss well and serve.
Notes
Top your salad with other vegetables (mushrooms, peppers, cucumbers, zucchini, yellow squash, red onions etc.)
Add cooked chicken, egg or tuna for more protein!
Add cubes of cheddar, Swiss or smoked Gouda cheese.
Fruit makes a great addition- try dried cranberries, cherries, raisins or apricots or fresh berries in season.
Learn more about:
Source:
Farm Fresh Summertime Recipes
Connecticut Food Policy Council