Recipe Image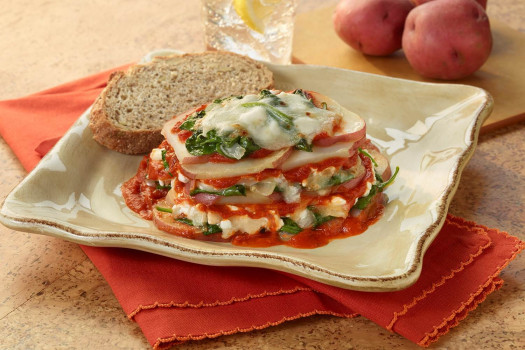 Preparation Time:
30 minutes
A unique and flavorful meat-free lasagna layered with sliced potatoes instead of noodles.
Ingredients
7 small red potatoes
1/2 cup onion

(chopped)

2 cloves garlic

(minced)

1 tablespoon olive oil
3 ounces fresh, baby spinach

(about 3 1/2 cups)

3/4 cup non-fat ricotta cheese

(or cottage cheese)

3/4 cup Part-skim mozzarella cheese

(shredded)

2 tablespoons Parmesan cheese

(grated)

1 egg

(beaten)

1 1/2 cups reduced sodium pasta sauce

(about 1/2 of 24-oz jar)
Directions
Preheat oven to 375 °F.
Bring water to a boil in large sauce pan.
Thinly slice potatoes, add to boiling water and cook 5 minutes, drain and rinse with cool water; drain again.
Heat olive oil in medium skillet, add onions and garlic; sauté about 2 to 3 minutes until just starting to brown.
Add spinach, sauté 1 more minute.
Remove from heat and drain off liquid.
In a medium bowl, mix cheese with egg until well blended.
Add layers to 8 inch square baking dish as follows, using about 1/4 of each: pasta sauce, potato slices, sautéed spinach mixture and cheese mixture. 
Repeat layers until all ingredients are used.
Cover with foil.
Bake about 35 to 40 minutes.
Remove foil and bake an additional 10 minutes until cheese is melted.
Notes
Source:
Produce for Better Health Foundation